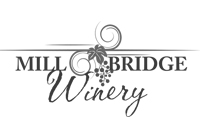 Sure, there's wine country out West — but did you know we have our own little haven here in the Smokies?
Mill Bridge Winery is one of several wineries in the area that local and visiting enthusiasts can't stop raving about.
Located on the banks of the Pigeon River, adjacent to the Old Mill, the winery has a vast selection of quality wines.
I enjoyed my free wine tasting on their patio overlooking the river, which made the experience even more perfect. After perusing the options of "dry, semi-sweet, sweet, and seasonal" — along with the hard cider Mill Bridge also offers — I decided on the semi-sweet Country Rapids, their version of a White Zinfandel "with a clean and refreshing finish." It was an accurate description.
Others in this category are Runner Stone, a fresh Concord grape wine made using grapes from local vineyards, and the limited Indian Summer, a sparkling blueberry wine with a slight lemon finish.
Mill Bridge Winery is part of the Rocky Top Wine Trail, located in the heart of the Great Smoky Mountains. Consisting of five wineries and one distillery, the trail offers more than 70 unique varieties of wine and moonshine to sample.
When you can't make the trip, you can can order from Mill Bridge Winery online: The link is located on its Web site (millbridgewinery.com/buy-our-wine).
You can also join Mill Bridge Winery's wine club. The Winemaker's Select Club, which just celebrated its 10th anniversary, offers a shipment sent out once in April and once in October. Members choose which club (sweet, dry, or mixed) they would like to join.
The newest variation is the Quarterly Case Wine Club, in which members are sent shipments in February, May, August, and November.
Be sure to check out ads in Best Read Guide for Mill Bridge Winery's special events and deals! Cheers!