Parrot Mountain and Gardens is a wonderful place to see, touch and feed hundreds of tropical birds in a Garden of Eden of beautiful flowers, trees and plants in Pigeon Forge, Tennessee.
Parrot Mountain is a lush garden attraction in the Smoky Mountains whose main attraction are the hundreds of tropical birds that live on the mountain. The parrots are housed in delightful English style cottages where they enjoy their natural habitat of sun, rain and fresh air. And you can hear them singing and talking, and see them dancing and interacting with each other and the guests. You can also visit the nursery and see the babies being hand fed.
In the bird garden, you can feed the parrots and get a souvenir picture holding the parrots. And in the walk-in aviary you can feed nectar to a colorful Australian Lorikeet from a cup in your hand. Walk through the Secret Garden where you can see Horn bills, Magpies and Toucans and other birds flying freely through the garden.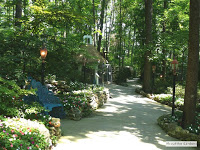 Parrot Mountain features even, paved walkways to allow you to stroll through the four acres of beautifully landscaped gardens and visit with the tropical birds that live throughout the Garden. You can sit on the many butterfly, peacock and dragonfly benches throughout the park, and enjoy the sights and sounds and serenity of Parrot Mountain.
You can visit Parrot Mountain with a group, or plan a birthday party or group, church or school gathering amidst the splendor and peacefulness of the Gardens. They are open March through November and offer food and drinks in their grill and souvenirs in the gift shop. For more information on the Gardens and things to do in the Great Smoky Mountains, go to the Best Read Guide website for coupons and information at www.bestreadguidesmokymountains.com.