Pigeon Forge has a lot to offer the visitor, but sometimes visitors just want to find an area that they can park, shop, dine and play without driving from one venue to the next. One of those places is Walden's Landing, located on the Parkway in Pigeon Forge, between lights 2a and 3.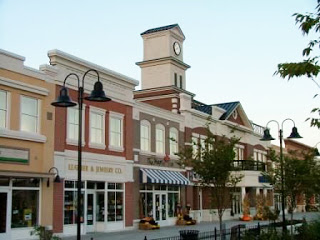 Walden's Landing will remind you of a downtown street the way downtowns used to be, and it is laid out around a miniature golf course. You can stroll along the street, stop in the shops, buy snacks, eat in the restaurants, go to a movie, and of course play miniature golf at Firehouse Golf. There is plenty of free parking surrounding the shopping, dining and entertainment center.
There are many well-known stores in the Landing like Birkenstock, Thomas Kinkade and Kilwin's Chocolates and Ice Cream. Some shops offer items described in their name, like Dolls and Doll Clothes, Outback Leather and Smoky Mountain Harley Davidson, but others are unique to the area. Color Bar & Spa offers make-up and spa services; Sweet Peas offers garden items, and The Maple's Tree specializes in handcrafted quilts and cozy home and lodge décor.
Food and treats include Calhoun's for hickory smoked ribs and handcrafted beers, No Way Jose's Mexican Cantina, Smoky Mountain Brewery with pizza, sandwiches and microbrews and Five Guys Burgers and Fries. For treats enjoy yoghurt at Tutti Fruttis and jerky of all kinds at The Beef Jerky Outlet. Villa Zapata, located across Community Center Drive, also offers Mexican food.
In addition to the miniature golf, you can catch a movie at the state-of-the-art movie theater, Forge Theater, with Digital projection, 3-D and Digital Surround Sound. Some nights there is live music on the stage across from the theater.
For a unique Pigeon Forge experience take a tour of Walden's Landing, a shopping oasis in Pigeon Forge.