Whether you are shopping for the right gift for the
musician on your list, you want to hear great Bluegrass music, or you need to
accessorize your stringed instruments, the right place to go is Smoky Mountain Guitars in Pigeon Forge, Tennessee.
For the holidays Dan and the boys at Smoky Mountain
Guitars can set you up with great gifts from picks, straps, strings and
T-shirts, to the finest hand-made guitars, banjos and mandolins in the world.
But before we go through a list of goodies, you need
to call now to book your tickets for the
Grascals
,
one of the finest bluegrass groups in the country. They will do one show on
December 7th at 7:30pm, on the Bluegrass Opry Stage at Smoky Mountain Guitars.
Call 865-429-1156 to buy tickets. They will not be available online or anywhere
else. CALL NOW!
Okay, back to the good stuff for the musician on
your Christmas list. Let's start with accessories because musicians always need
to replace or upgrade something.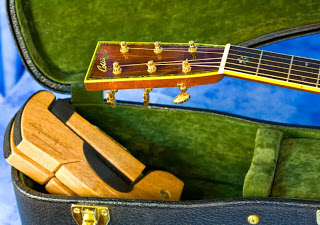 The coolest new accessory is a Cooperstand, a
folding guitar stand that fits into your guitar case up under the guitar neck.
Every player needs strings and longevity strings last longer than regular strings – which makes them a better buy than cheaper strings. Smoky Mountain Guitars sells D-Addario and Cleartone, which are both phosphor bronze-wound strings.
Then get a Fossil Mammoth Ivory pick or a V-pick. Ivory picks pull the truest quality tones from the stringed instrument, and they have the Smoky Mountain Guitars logo on it which also makes a great souvenir!
Cool straps make a great gift especially when they
are handmade and Smoky Mountain Guitars offers two fantastic choices. The
Longhollow cowhide strap is handmade in Franklin, Tennessee (another great
souvenir opportunity), and Lakota Straps are handmade on the Lakota Indian
Reservation in South Dakota. The guitar straps are made from Buffalo skin, and
the banjo straps are made from Elk skin.
Now let's talk about guitars, banjos and mandolins.
Smoky Mountain Guitars carries only the finest hand-made acoustic stringed
instruments. They are the exclusive worldwide dealer for Altman Guitars and
Altman Mandolins; they are the only Tennessee dealer for Boucher handmade guitars;
and their custom Nechville Banjos are built to Smoky Mountain Guitars specs,
which means they are traditional style mahogany or maple model banjos.
Additionally Smoky Mountain Guitars carries
high-end, handmade, industry leaders like Collings and Bourgeois Guitars, Grundy
Banjos and Copperhead Mandolins, plus Vintage Martin and Gibson Guitars and
many used instruments as well.
If you are not a musician or you want to improve
your skills, Smoky Mountain Guitars carries a complete stock of instructional
DVD's from beginner to advanced. And, no matter what you buy, make sure you get
a Smoky Mountain T-shirt that will make you a lot happier and improve your
playing. (You do not have to be a musician to wear and enjoy the benefits of
these T-shirts.)
Smoky Mountain Guitars is located at 2520 Sand Pike
Boulevard in Pigeon Forge. Turn at Stoplight # 3 – which is Wears Valley Road –
and go to the second street and take a right onto Sand Pike Boulevard. They are
on the right. Contact them at 865-429-1156 or online at
www.smokymountainguitars.com
.