Captain Jim's Seafood Buffet is located on the Parkway in the heart of Pigeon Forge, Tennessee. And every day he serves-up a fresh seafood buffet with all you can eat Crab Legs! In addition you can get cold beer and liquor to go along with your meal or to enjoy in their lounge, fresh vegetables and sides and a choice of landlubber food for those who don't want seafood. But let's talk about the seafood.
There are mounds of Peel-And-Eat Shrimp, Snow Crab, Baked Mahi and Salmon, Raw Oysters, Crab Stuffed Flounder, Mussels Pomodoro, Tropical Crab Salad, Fried Flounder, Fried Oysters, Frog Legs, Calamari, Paella, Butterfly Shrimp and Seafood Lasagna offered as seafood entries. In addition there are land-based foods like Baked Chicken, BBQ Pork Ribs and Chicken Tenders. Sides are abundant with a Salad Bar, Cole Slaw, Potato Salad, Corn on the Cob, Twice Baked Cheese and Cream Potatoes and more. And of course, you have a selection of desserts to end the meal on a sweet note.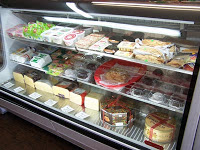 Buffet items change daily and seasonally so there may be some pleasant surprises awaiting your next trip to Captain Jim's. Another pleasant surprise is the European Grocery Store located next door to Captain Jim's Seafood Buffet. There you will find imported meats, cheeses, butters and fish, as well as frozen dumplings, entrees and breads. There is a sweet side to the grocery too, with Europe's favorite jams, jellies, condiments, sauces and marinades, and of course delicious chocolate – like Toblerone – cookies, candies, coffees and teas. This is a wonderful place to find those European delights for cooking, eating and gift-giving that are hard to find anywhere, especially in Tennessee.
If you are hungry for seafood, or looking for unique food and gift items, visit Captain Jim's Seafood Buffet in Pigeon Forge. If you need more information, click on the Captain Jim's link in the first paragraph and get more Smoky Mountain information and coupons from the Best Read Guide site at https://bestreadguidesmokymountains.com/. Expand your Smoky Mountain visit with a trip to Captain Jim's Seafood Buffet and enjoy your trip to the Smokies!